Cuckold Phone Sex: Kinky Sex Cougar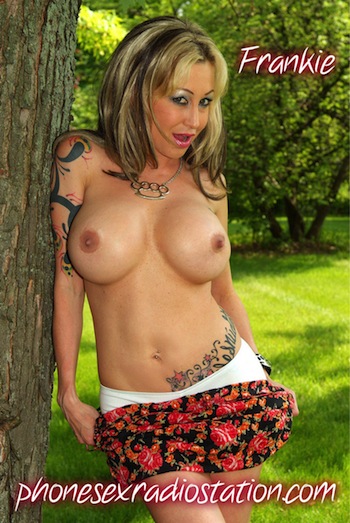 Well, let me introduce myself. I am Frankie and I am your delicious kinky cougar. You may also think of me as your cuckold phone sex queen. Why does this cougar enjoy cuckolding so much? Every heard of that saying, "having your cake and eating it too"? Its like that. I am greedy. I love sex. God, I really do. Getting my hot, mature, pussy pumped full of glorious young cock is the best! The thing that puts the icing on that cake is YOU watching. I don't care if I have to force cuckold you or you come willingly, its happening. You might as well hang on tight and enjoy the ride. I know I will.
You might have noticed that I am not your typical cougar. I am not sweet and if you want to be coddled you are looking at the wrong lady. I love to party, get inked and just have a blast. I am also very kinky and sexually aggressive. I like being in charge of little cuckold slaves too. I can play nice but I really like to play dirty on my cuckold phone sex calls. It just brings out the mature feline in me, boys. I want to watch you get so freaking hard while my personal trainer fucks me from behind. My big titties clapping away while I look you right in the eyes. Take that cock out and stroke it slowly! Don't want you coming before I do, bad boy. *wink*
For those of you looking to be a cuckold slave we should really talk. I would love, to not only fuck men in front of you, darlin but I would thoroughly enjoy teaching you to serve my stud as your Master and myself, as your cuckold mistress. You would be required to suck his cock, yes buts its more than that. I want you to make the bed, set the mood, serve us wine! You would kneel and kiss my pretty feet and ask him, nicely, to fuck your cougar Mistress. When he presents his cock for preparation you will obey. You will suck it. Once again, if forced bi is your thing I do enjoy forcing you to accept your cuckold status in my bedroom. You will suck that dick either way. That you can be assured of.
While he is fucking me you will lick my clit and consequently his cock and balls. You should be thankful to taste your cuckold phone sex Mistress's juices off his dick. Thank him. Good boy. If I allow your Master to cum into my pussy you will be the one who cleans it with your tongue. Cream pie fetish will be part of your chores. Not that you see it as a chore. Right, slave. You love that sloppy wet creamy cunny.
To have your cuckold fantasy fulfilled call 1 888 797 7678 and ask for Frankie.