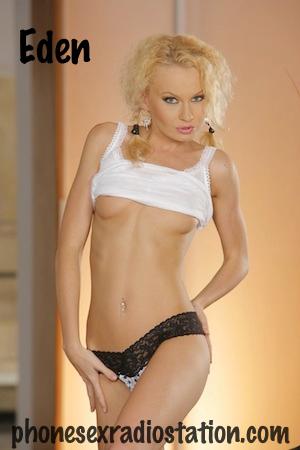 Hello boys, I am Eden. Thats Princess Eden to you. *Wink* I love that we have a phone sex radio site where we can feature our phone sex mp3 recordings for you to purchase. You can download them or just listen to them one time. Its totally up to you. Keep in mind these are X-rated and uncensored. You or your horny cock will not be disappointed. You can even commission a girl to do an exclusive, custom made MP3 for you, if that floats your boat.
I think that sexy phone sex MP3 recordings are an excellent way to keep you guys all hot and horny for our amazing ladies. Also, if you are the shy type or just want to listen to a girl to hear how she sounds or how she talks about a certain fetish or fantasy then this is a fantastic option for you. Plus, some of you have nagging wives who spoil all our fun. *Boo* This way you can still hear your favourite girl whenever you want without alerting the wife to your naughty masturbation session.
Now, as far as Princess Eden goes you know what my phone sex MP3 recordings are about. *grins* Humiliation, cock mocking and strap ons! When you listen to my sexy coed voice tell you just exactly how I am going to fuck your ass with my big strap on cock your dick will thank me. I love to bend a boy over and work my big rubber dick right up his little ass pussy! You can blow me first, though. A big strap on cock like this deserves a wet, nasty blow job.
I think some of my next phone sex MP3 recordings should be about SPH and forced intox. I have so many ideas. I think in the up coming days I will create a little freebie for you guys to listen to. A teaser clip, if you will. Stay tune for that. *Wink*
If you ever want to talk to me live you absolutely can! I am the bitchy brat and cock mocker that your humiliation dreams are made of. Call 1 888 797 7678 and ask for me, Eden.
Check out my MP3 for sale on my phone sex mp3 recordings page and if you want to hear my voice just listen to the free clip.