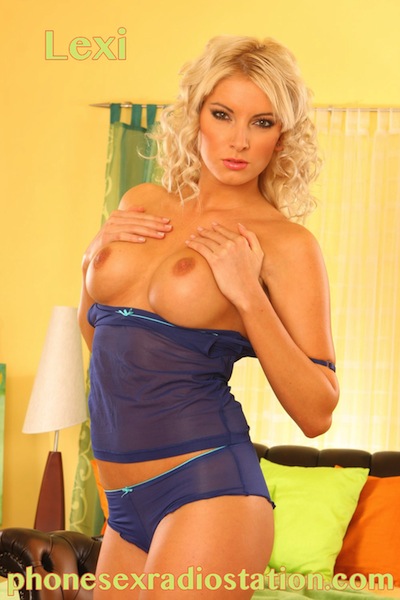 I'm Lexi and I love to have a good time roleplaying hot and wild sexually deviant fantasies. I just had a role play phone sex call with a guy who is very into vampires. As well as domination and pain. He becomes a powerful vampire that is determined to take my virtue and my blood before the sun comes up. He is seductive and charming even as he stalks his prey, which is in fact me. If he fails to charm me out of my dress with his wit and charm then he uses his vampire powers to control me, hypnotize me and even turn me into a wanton bloodwhore. He loves to plunge his fangs in my neck just as he plunges his cock into my tight pussy. He becomes like a savage creature of lust and I'm his prize.
Another fun caller always wants me be his cold and bitchy girlfriend that he finally gives the hard fucking she needs. I create the mood for him and turn on him, throwing one degrading and belittling comment at him after the other. I nag and bitch and complain while he mumbles and apologizes for failing me yet again. When I tell him I wish I had a real man he snaps and becomes a brutal master that punishes me for my wicked and sharp tongue. He ties me up and spanks me and then fucks me for hours until I promise to always respect him. I always promise to never be a mean and humiliating bitch but I never keep it. We have too much fun starting over again.
 It's always something new with role play phone sex. My newest role play caller has a thing for robots and machines. Sometimes I'm a sexy fembot that seduces him with my electric pussy. Sometimes he's the robot and it's my sweet pussy getting fucked by one of his many exotic and crazy attachments. I've been fucked by all kinds of crazy contraptions. He sometimes likes restrain me in different ways so that he can use his fucking machines on me. Big dildos and vibrators attached to mechanical arms and rotating bits, thrusting at lighting speeds or spinning as fast as a drill. We always come up with new ideas with each call. There is no limit to what we can do during a role play phone sex call. Anything you want to do, anyone you want to be, just call 1.888.797.7678 and ask for Lexi.