Small Penis Humiliation Phone Sex Podcast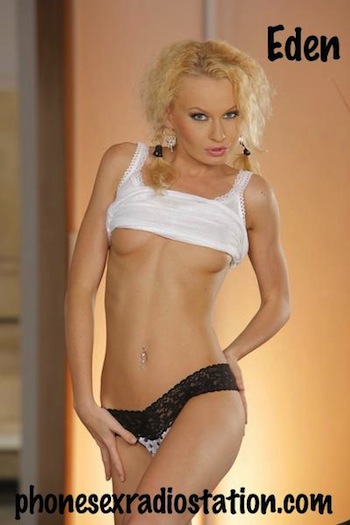 Well, hello hand humpers! Its me, Princess Eden again on the phone sex radio station!  I know you little dick, bitches missed me, didn't you? You wont be able to guess what I just did? A totally free candid small penis humiliation phone sex podcast!! I just sat down and talked for a few minutes about one of my favourite humiliation fetishes. Its an "off the cuff" teaser about how I feel about midget dicks and the panty boys attached to them.
Now before you all say, awww Princess Eden you are so mean..stop! I don't care. I am good at being mean. Its my calling, as a perfect Princess. I am the proverbial, curly haired, feminine, bully. I enjoy verbal humiliation to much to give it up just because one of you boys cried or felt I gave you an emotional boo boo. If you were to be honest you would confess that you love small cock humiliation and it makes your wee wang really hard LOL.
My small penis humiliation phone sex podcast will have your tiny tater dick hard as a rock. now behave yourself! I know you like to whack your teeny weeny off but dayum have a little class. I think you should place a call with me or one of our other hot Princess's or Mistress's after you listen to it. Then maybe she will have some mercy on you and let you hump your pillow like a little bitch and squirt! LOL
Now, I know my laugh makes your pee pee get all excited but down boy. I know it drives you crazy. The way I laugh AT you instead of with you, hehe. You need to amuse me, bitch. You better get your toys ready, panties on and be prepared to be humiliated, little man! I may even make you sing a girly song or if you are on cam I might make you do a little hoochie mama dance for me. I love to laugh! Sometimes, just hearing your embarrassing confessions is enough. Some of you have had some really demeaning sexual experiences.
Dont even get me started on the little dick boys who tell me, in a pathetic whisper,  that they are virgins. OMG, seriously. I guess if its small enough you aren't going to get it *in* anything, right? I want you little bitches to listen to my small penis humiliation phone sex podcast, its free and its one hot phone sex recording. You need to leave me a comment and thank me too for this audio that embarrasses you, little panty slut! Be a polite boy, now. *Wink*
Now, if you need to know more about me than you can go up to the navigation bar and hover your cursor over "available girls" tab. See the page in the drop down called "Vixens"? Click it and find my bio, pics and my uncensored x-rated MP3's for sale.
Dial 1 888 797 7678 and place a call with one of our hotties you wont regret it. We freaking rock!
Podcast: Play in new window
Subscribe: RSS